We may earn money or products from the companies mentioned in this post.
Ever wonder how to wear makeup during allergy season?
Stop the presses! I had to stop everything. My beauty routine, gym time and eating is all disrupted now due to that season…ALLERGY SEASON.  Now, how do I wear makeup during allergy season?!
Yes we all love spring and are eager to dive into warmer weather for those of you who experience cold winters.
It all happened 4 years ago when I couldn't understand why I had a 6 week cold that wouldn't go away. I went to an allergist and they did that test where they poke you with a million different essential oils and wait and see when you'll start to react.
Yah that didn't go over well, I freaked out and FAINTED. Yup. I fainted. I'm a fainter ok? Apparently the doctor was
used to that sort of thing and had me wait in his office to tell me although my fainting ordeal, I was allergic to grass pollen.
I can still sit on grass, have grass fights and roll around in it but it's that new spring grass pollen in the air that makes me crazy. Without sounding too much like anti-histamine commercial my symptoms are: itchy, watery eyes, sneezing, coughing and fatigue.
My favourite season was now ruled by the pollen report on my weather network app. For someone who LOVES makeup and spending their day outdoors, this season really tries to slow me down.
Popping a few anti-histamines and some allergy eye drops, I'm seemingly on my way to living my best life but somehow, the watery eyes comes back and the sneezing returns at any point in day.
Here are some of my tips to ensure you look your best self and how to wear makeup during allergy season.
How to wear makeup during allergy season:
1. Stick with Natural and Light Eyeshadow – Say it with me: NO GLITTER. Your eyes are most sensitive during this high pollen time and it's best not to irritate them further. Glitter eyeshadow has a tendency to be harsh around our delicate eyelids and can sometimes cause irritation. If you are an eye-rubber like myself, you'll be digging those little pieces of glitter into your eyelids, which could possibly fall into your corneas. Bad idea. Instead, stick to your natural mattes.  You can read about my top 5 eyeshadow palettes you need in your life here.
Too Faced created the most beautiful Natural Matte Palette just in time for spring.  It has a creamy and soft finish and blends easily.  You definitely don't want to put on eyeshadow that requires a lot of blending and pulling delicate skin on the eye.
2. All purpose creams – Skip the foundation – I know right? Scary tip. I don't mean to skip the foundation entirely
but switch to something like a tinted moisturizer or a BB Cream that isn't so harsh on your face. I get itchy around my neck sometimes and scratching only moves around perfectly placed foundation. Besides, it's hot and who wants to deal with that anyway?
The Bare Minerals is a brand that is known for their quality ingredients in their makeup.  One of my top picks is the Complexion Rescue Tinted Hydrating Cream.  This acts as a hydrating cream, allowing skin to breathe and providing minimal coverage.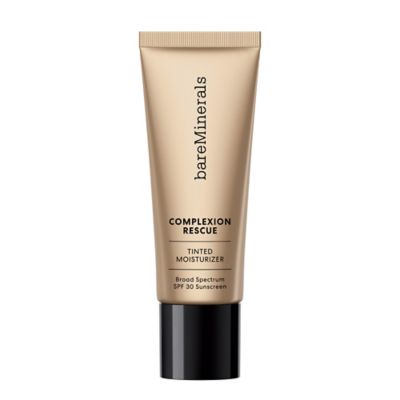 3. Lip Balm is your Friend – I love glosses but with this blowing wind and lots of sneezing, sticky lip gloss can become a handful, literally. Choose a tinted lip balm that will allow you to put moisture back into your lips and not have to worry about if you sneeze where your bright pink lipstick will end up.
One of my favourite tinted lip balms is from Fresh called: Sugar Lip Treatment.  They have the most extraordinary pinks and purples to complete any look.  Or, if you're into clear that works too!
4. Natural Mascara – I know that mascara naturally makes me want to itch my eyelashes. With my eyes super sensitive during allergy season, I tend to stay away from mascara altogether. There is however, a new Mascara that just came out which is as natural as can be from the brand: Milk Makeup. The Kush Mascara has natural Cannabis oils which allows for the Kush Mascara to be thick without drying eyelashes. The Kush Mascara by MilkMakeup wanted to create a product that used Cannabis as a natural  product and was "tug free" on lashes – perfect for allergy season!
Besides, in the spring and summer months, makeup should be light and fresh.  I think that these makeup tips will show you how to wear makeup during allergy season. Some years are particularly worse than others and you may have to switch up your routine to get your sanity back but I promise making small changes will help.
OH and the last tip is to get those anti-histamine eye drops (link to eye drops) from Visine will help.
Hopefully you all don't feel that you're alone in allergy purgatory and know that you can still be you with a few simple changes.